About The Carleton Place Heritage Project
Carleton Place has a rich architectural heritage. To shed light on some of the buildings that make Carleton Place a unique and fascinating town, Carleton University's History & Theory of Architecture Program partnered with the Carleton Place and Beckwith Heritage Museum to produce online exhibits. Students in the fourth-year undergraduate seminar ARTH 4800 held in the winter of 2021 and 2022 worked with digitized documents and sources provided by Jennifer Irwin, Manager of the museum, to learn more about the lives of the town's buildings. With these digital artifacts and other research materials, and the open source publishing platform Scalar, they have woven together interactive exhibits that illuminate the importance of the built environment to the history of Carleton Place.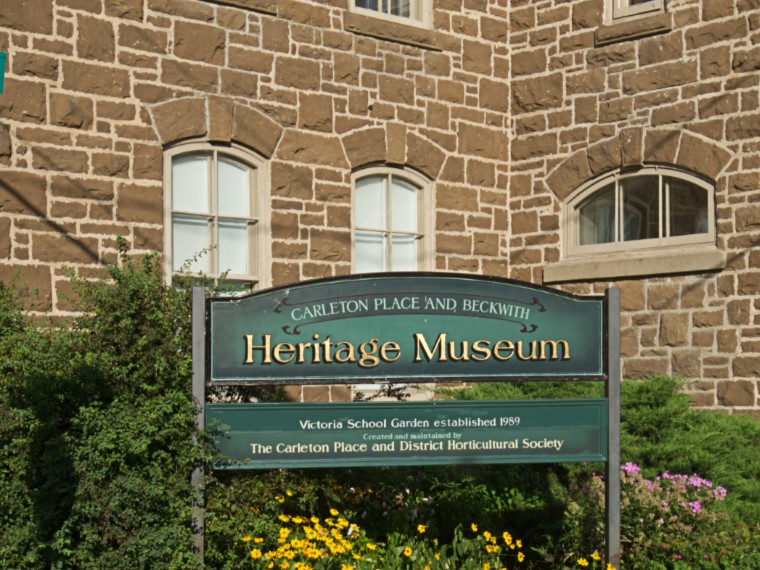 Browse By Location
Carleton Place Roundhouse
Large stone roundhouse and shop located on Franktown Road in Carleton Place, Ontario.
The Waterworks
Situated on the outskirts of Riverside Park, this structure, and the connected infrastructure, was quite a leap forward for Carleton Place
207 High Street
Built in 1902, 207 High Street reflects the influence of industrial growth and financial success in Carleton Place. Multiple generations of the Galbraith and Findlay families called 207 High Street home throughout the twentieth century, housing a web of town histories that reflect the evolving roles of industry, gender, and class in domestic space.
Keyes Block
A building of remarkable historic value, having retained almost all of its original components, Keyes Block is also a site of a rich tradition in community-driven local enterprise, its long history as a footwear and grocery hotspot for Carleton Place adding invaluable character to the town's commercial history. 
Boulton Brown Mill
With its location backing onto the waterfront of the Mississippi River and just less than a minute's walk away from other designated heritage properties in the town such as the Carleton Place Town Hall, Carleton Hotel, High Street residences, and more, this site contributes to the rich cultural and historic value of this area.
The Grand Hotel of Carleton Place
The Grand Hotel of Carleton Place - Formerly known as the Mississippi Hotel - has a long and storied history, and has been a fixture of the community since its construction in 1872. For much of its life it was known as the Mississippi Hotel, only becoming The Grand Hotel following extensive renovations in 2017. In the one and a half centuries since its creation, this remarkable building has survived fire, the threat of demolition, and the ravages of time. In its heyday however, the hotel was a beacon of hospitality, style, and sophistication, known as "the leading hotel in Carleton Place," and across Ontario as "one of the finest hotels between Ottawa and Toronto"